EPR Innovation Prize 2018 goes to go2job by BFW Koln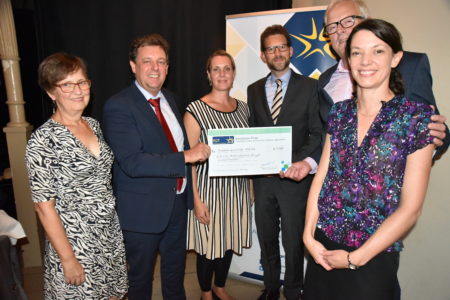 Every year, EPR Innovation Prize awards innovative and inspiring practices within its membership to motivate knowledge-sharing within our platform and to reward our members' work to advance and improve the service provision to people with disabilities.
The finalists of 2018 were:
BFW Koln with "go2job"
RehabGroup with "CARA Outreach support services"
ONCE Foundation with "Supported entrepreneurship program (EmCa)"
Each of the finalists presented their practice at the Gala Dinner held within our Annual Conference and 25th Anniversary celebrations on the 20th of September in Utrecht.
The awarded practice, go2job from one of our German members, BFW Koln, is about modular qualification for older people in vocational rehabilitation. The practice is aimed at people who, due to their older age, are no longer able to work on their current jobs although they have knowledge and competences that remain valuable for the labour market. This awarded practice offers a program that last for a period of up to 12 months, starting with 4 weeks profiling to identify the person's competences and how those could be integrated in a specific job. The program also trains the participant in the occupational skills for a specific job opportunity in a company. Concretely, it offers participants the possibility to be placed in training courses of more than 20 professions of the most relevant in Germany's dual system. Qualifying for a specific job is at the core of go2job that also provides psychological and health support. Up to 70 per cent of the participants are employed afterwards.