Employment for All – Strategies for the Implementation of the UNCRPD
Vienna, Austria
27th September 2018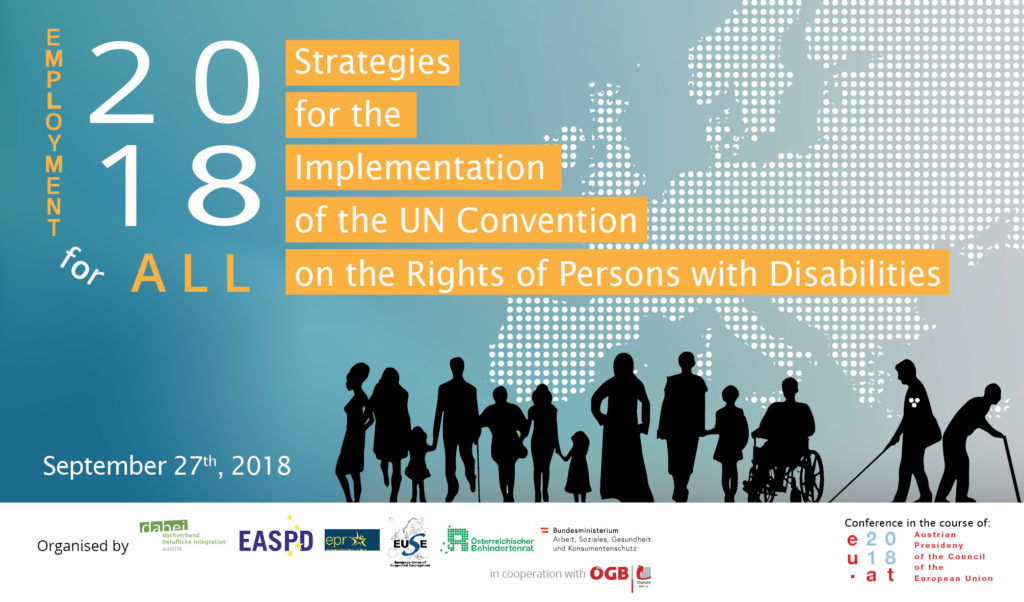 On September 27th, EPR co-hosts together with EASPD, the European Union of Supported Employment, the Austrian Disability Council and the Austrian Ministry of Labour, Social Affairs and Consumer Protection a conference focused on the employment of people with disabilities in Vienna, Austria. People with disabilities face important barriers in accessing the labour market besides the efforts and claims done by civil society organisations and the concrete mention under Article 27 of the United Nations Conventions on the Rights of Persons with Disabilities (UNCRPD) of  the right for people with disabilities to work equally to other citizens.
This conference, organised within the Austrian Presidency of the Council of the European Union, will look into strategies to ensure employment of people with disabilities and the implementation of the Article 27 of the UNCRPD.
Participation to this event is free, to register please send an email to conference@dabei-austria.at.
Venue information: the conference venue is fully accessible and simultaneous interpretation and sign and text interpretation will be provided.
This event receives financial support from the European Union, from the EU Programme for Employment and Social Innovation (EaSI). For further information please consult: http://ec.europa.eu/social/easi