Public Affairs event "Ensuring rights-based services for people with a disability" & EPR 30th Anniversary Celebration
Avenue des Arts 8, Brussels, Belgium
4 December 2023, 14.15 - 17.30 CET & 17.30 - 19.30 CET
Register here
This year's Public Affairs Event will take place at EPR's headquarters in Brussels, Belgium, on 4 December, 14.15 – 17.30 CET at Avenue des Arts 8, in the Artemisia Room. The event will be followed by an after-work drinks celebration, to toast to EPR's remarkable 30-year journey at Welkin & Meraki lounge, Avenue des Arts 6!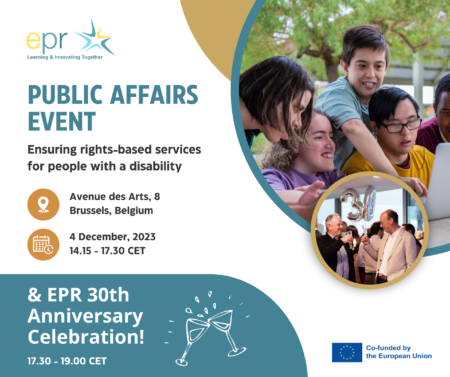 The Public Affairs event will center around EPR's call for good practices on ensuring rights-based services for people with a disability for this year's EPR Study. During the event we will discuss the study, policy recommendations and good practices such as services, programmes, projects that demonstrated the application of a rights-based approach in the creation, production and delivery of services for people with disabilities and/or that have the potential to build this in the mid- and long-term run.
From 17.30 – 19.30, we will commemorate our 30th anniversary with refreshing drinks, appetizers, inspiring speeches and more surprises to unveil. This gathering will provide a unique opportunity for networking and joyful celebration among our members, partners and friends!
Registration and Agenda below.