The Future of Europe: Public Consultation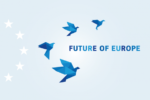 In May 2019, EU leaders will have to map their priorities and renew their commitments to the most pressing issues faced by national governments. How will they address the main challenges and opportunities of the EU, and what should be their priorities?
Now is the opportunity for European citizens to answer these questions and share their input as the European Commission launched a Public Consultation on the Future of Europe, a questionnaire made by a panel of citizens for citizens.
The questionnaire is an inquiry on how the EU should respond to various societal questions that are as much controversial as necessary. How can the EU improve  on migration policy, environmental policy, education and training, safety, equality, job opportunities, healthcare, technology  and innovation policy?
Answer the survey to make your voice heard by EU leaders and steer the wheel of the Future of Europe.
>>> Answer the questionnaire of the Public Consultation here.
>>> Learn more about the Future of Europe.
>>> On social media? Join the debate at #FutureofEurope.