Extra Power! Employment game for young people with disabilities

This year the first employment game for young people with disabilities took place in Valladolid (Spain). Over 250 participants from the region took part in the event organised by the ONCE Foundation in collaboration with the Valladolid Chamber of Commerce and with support from the European Social Fund. The goal of this initiative, developed within the framework of the operational programme for the implementation of the Youth Employment Initiative (YEI) 2014-2020, is to improve the capacities of those unemployed youngsters with disabilities registered in the Youth Guarantee National System. The event has a 'gamification' style, in order to motivate young people to set some realistic goals, show them the importance of training, as well as different labour opportunities, awaken new vocations and provide the participants with effective innovative tools, while teaching them how to work on their social skills.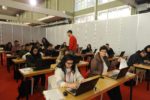 As in a video game, participants can only advance to the next level by overcoming different challenges in the form of activities (workshops, networking with companies…) where, in a really fun cool way, they can get knowledge and skills to become a superhero with special powers to fearlessly and strongly face their professional future. In each level they improve their capacities and win cool gifts. The gamers must complete at least one workshop in each category: New Job Opportunities, CV Creativity, Let's Start-up and Impress Companies. After completing all the levels, they get their Top Gamer Certificate and enter a draw to win a Play Station 4. As part of the event, participants have the opportunity to network with Human Resources staff from different companies. They can do work interview rehearsals with them, and hear their feedback and improvement proposals, finally leaving their CVs for future job opportunities. The activities also include motivational speeches by some of the paralympic athletes in the Paralympic Trainers Program. The event will be replicated in June in Gijon, Seville and Alicante, thus covering most of the Spanish territory.
Would you still like to know more about this project? Read more on its website.