Current EPR Involvement in EU Projects

Research and innovation are key to ensure services continue to be able to meet needs and keep up with changes and developments. At the European level, EPR is involved as partner and promoter of several projects focusing on various themes such as mental health, vocational education and training, and quality in social services.
BRIDGES: Better Results for Inclusion of Disadvantaged – Good Practices & Policy from European Services 2018-2022 YR 3/ 2020

EPR has a Framework Partnership Agreement with the European Commission, DG Employment, Social Affairs and Inclusion under the Structural Funds programme for 2018-2022. Activities funded under this programme for the year 2020 are:
EPR Annual Conference, mutual learnings meetings, working groups, Centre Coordinators meetings (inform on & discuss EU initiatives, share good practices), National Awareness Raising Events, EPR-EPSR study days, EU policy webinars, analytical papers, a study on the transition from care to employment with recommendations, Workshop for Directors, Funding support service, e-Learning module, online campaign, knowledge hub, e-Bulletins, newsletters.
These events receive financial support from the European Union, from the EU Programme for Employment and Social Innovation (EaSI). For further information please consult: http://ec.europa.eu/social/easi
QoL4ALL- Quality of Life for All Erasmus+ KA2 project
E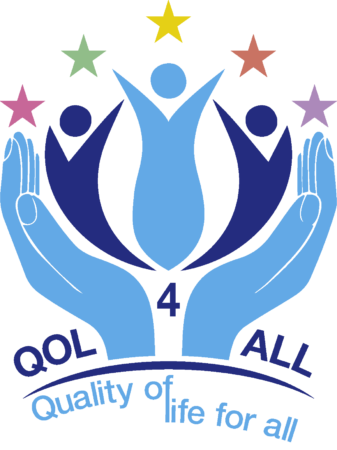 PR is a project's partner together in the consortium of this Erasmus+ project focused on measuring the quality of life of people with severe disabilities.
Jump to Job!
EPR is the coordinator of Jump to Job! A Erasmus + project with a partnership of six organisations including EPR members GTB, Theotokos Foundation, Fundacion INTRAS, URI and also the University of Leuven Limburg, (UCLL, Belgium) and LYK – N (Norway).  This project focuses on training peers and job coaches for young people with disabilities.
TransitAction

TransitAction is an Erasmus + funded project with the aim to provide Young Adults with Autistic Spectrum Disorders (YAASD), Transition Coaches (TC) and other actors in their lives, new skills and innovative tools to support YAASD in the difficult transition from school or inactivity to employment.
QOLIVET
is an Erasmus + funded project aimed to improve the quality of Vocational Education and Training (VET) and Community Care provision across Europe and raising its impact on the Quality of Life (QOL) of students and end-users.
Change For Inclusion

Change4Inclusion is a ESF+ project led by GTB in partnership with EPR, SIVA, Fundación Intras and three partners from Flanders: Sterpunt Inclusief Ondernemen, Pulso Europe and GRIP. The project aims to support employers to work towards inclusive workplaces and a learning and inclusive organisation culture.
To see EPR's past projects, please click here.
For more information regarding ongoing projects, do not hesitate to contact Roberto Zanon, rzanon@epr.eu