"Nothing about us, without us" calls for a meaningful participation of people with disabilities in matters that directly relate to them and can influence their lives for more social, educational and labour market inclusion. Improving policies and programmes for the full inclusion of young people with disability can ensure that they can develop capacities and fully participate in society in a later stage of their life.
The EPR network strives to promote the meaningful involvement of youth with disabilities in society and in the framework of this project, young people with disabilities directly contributed to the policy making process, whilst developing competences and skills to participate fully in society. Different stakeholders – primarily youths with disability, but also experts, service providers and decision makers from different countries, met to identify and coproduce policy recommendations because they believe that by working together, they can make a more positive impact on the lives of young people with disabilities by achieving the objectives listed below.
The Commission (SWD(2015) 429 final) stressed that the EU supports young people's employability and social inclusion through the Europe 2020 strategy and EU funds such as Erasmus+, ESF and Youth Employment Initiatives, referring to more and equal opportunities for all young people in ART 6 and 165 of the TFEU. In the 2016 document evaluating the first 3 years of Youth Guarantee implementation (SWD(2016) 646 final), the European Commission noted that despite the positive results achieved, more effort is needed to support young people who face specific situations, among which disability.
The project's report can be read here.
The manifesto can be read here.
The roadmaps to implement the manifesto can be read here.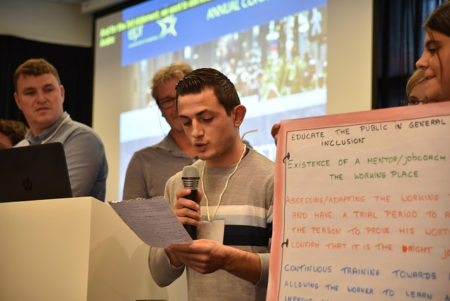 >> OBJECTIVES of the project
– To enhance dialogue opportunities and contact between learners with disabilities and policy makers
– To reduce the gap between policy-making processes and the needs/opinions of youth with disabilities
– To promote participation in the democratic life of young people with disabilities;
– To co-produce recommendations on involving young people with disabilities in policy making;
– To raise awareness about relevant EU policies – Europe 2020 strategy, Education and Training 2020, European Youth Strategy, European Disability Strategy 2010 -2020, European Pillar of Social Rights
– To co-produce concrete policy recommendations on inclusion that can be easily shared and disseminated and feed into the development of the new Youth Strategy and beyond; ensuring that youth issues are taken into account in cross-sector policy initiatives
– To develop intercultural and social skills among young pwd
– To promote peer-learning and intercultural learning, through non-formal learning,
– To promote the mobility of young people with disability
– To identify good practices supporting inclusion and involvement in democratic life among service providers
– To enable continuity of other EU funded activities
– To enhance Inclusion and Diversity in the Erasmus+ funded activities
>> Fundacion INTRAS, one of the partners in the project, made a video with one of its delegates! Watch the video here:
Democracia participativa (Utrech, septiembre 2018) from Fundacion INTRAS on Vimeo.
> Euro Youth Mental Health Director speaks about the workshop and interviews one of the other participants.

>> Project Meeting: Utrecht 19-20 September photo album.
The roadmaps for the implementation of the project in the different countries: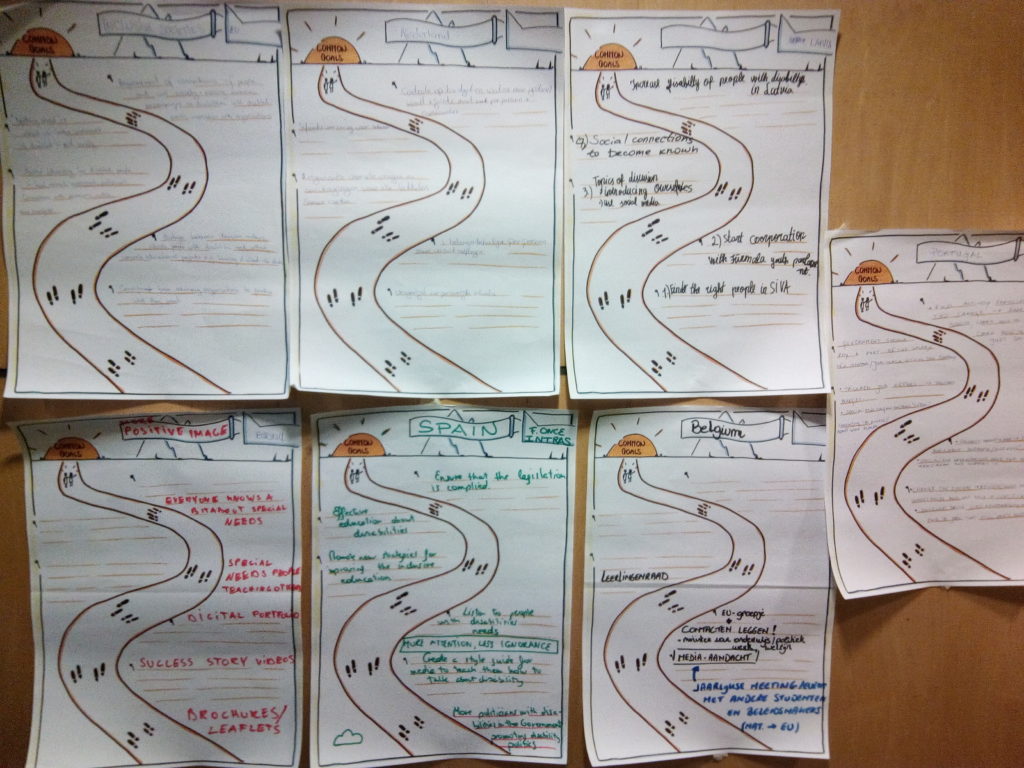 What happened after the project meeting in Utrecht? Discover what the partners have been working on with the young people…