Public Affairs Event – Resilience, creativity and co-production under COVID-19
Online, via Zoom
1 December 10.00-12.45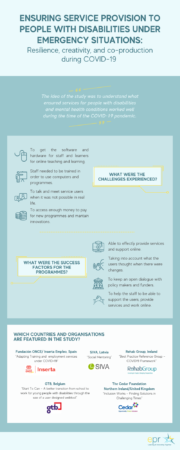 EPR launched a call for good practices for a study aiming to analyse how service providers working with people with a disability showed resilience, creativity and co-production during COVID-19. At this event we discussed the study, good practices, success factors and policy recommendations, with both service providers and stakeholders, including the European Commission.
Mathias Maucher presented the main content of the study "Ensuring service provision to people with disabilities under emergency situations: resilience, creativity, and co-production during COVID-19". The thematic focus was on services, programmes, initiatives or projects developed or adapted to the requirements of the COVID-19 pandemic which, but also are supporting resilience, creativity, and/or co-production. 5 EPR members – Cedar Foundation (Northern Ireland/UK), Fundación ONCE – Inserta Empleo (Spain), GTB (Belgium), Rehab Group (Ireland) and SIVA (Latvia) – had submitted promising practices as applications for the EPR Prize 2021. Fundación ONCE – Inserta Empleo got the highest score, the GTB good practice scored second. He presented the key features of all 5 practices and then elaborated on the common and/or main challenges, success factors and recommendations. Mathias made a quasi-identical presentation two days later at the SIVA Conference "Education & Support & Cooperation" on 3 December.
Virginia Carcedo, Deputy Director of Training, Employment and Transformation of Fundación ONCE & Secretary General of Inserta Empleo, Spain, gave an overview of the promising practice they had submitted, entailing a comprehensive adaptation of the training and employment services offered in the context of COVID-19. She concluded her intervention with sharing key insights and recommendations, building on the learning and experiences of the last about one and a half years. Nele Hulselmans, Staff Member GTB, and Patrick Ruppol, EPR Board Member and Staff Member GTB, presented "Start To Can", the runner up, a programme to enable a better transition from school to work for young people with disabilities through the use of a user designed webtool. It is a solution focused web tool for a blended approach to improve the employability of young people that takes into account clients' dreams by also reflecting on a number of life domains, such as living, relationships, health, finances, learning, leisure, and work. This was followed by an exchange with the winner and runner up on challenges and success factors of their promising practice.
Following the virtual handing over of the EPR Prize to Virginia Carcedo representing Fundación ONCE – Inserta Empleo, 4 panellists discussed on the lessons learnt from the study, the good practice examples included there and own experiences in the context of the COVID-19 pandemic. Laura moderated the debate structured by the question what policy makers and funders could or should to support social service providers in view of the quality, co-production and resilience of their services. Participants were Gunta Anca, EDF General Secretary; Michael Backhaus, Human Resources Manager at Mariaberg; Thomas Bignal, Head of Policy, EASPD and representing the "Coordinated Action on Social Services in the context of the COVID-19 pandemic"; and Monika Chaba, Policy Officer (i.a. coordinating issues related to social services), DG EMPL European Commission.
The meeting was held online via Zoom. The programme can be found below.
This meeting is free and open to the public.

This event receives financial support from the European Union, from the EU Programme for Employment and Social Innovation (EaSI). For further information please consult: http://ec.europa.eu/social/easi